PASTA DI GRAGNANO IGP
THERE ARE SEVERAL REASONS WHY PASTA DI GRAGNANO IS CONSIDERED THE BEST PASTA IN THE WORLD.
The first is the top quality of the raw material, consisting of durum semolina wheat and then the long production process which fully complies with the regulations of Pasta di Gragnano PGI.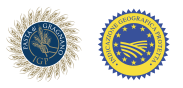 We use only spring water from the sources in the Lattari Mountains, whose unique chemical-physical and organoleptic features gives our pasta its unique flavour.
The dough must then be drawn in bronze. This precision work prevents the pasta from being damaged and gives it its rough surface, ideal for capturing all the flavour of seasonings and sauces. The drying stage varies depending on the pasta shape but in any case the temperature ranges between 40 and 85° C and the time ranges between 4 and 60 hours.
This slow drying process is synonymous with quality as it allows the pasta to retain all the nutrients that makes it so special.